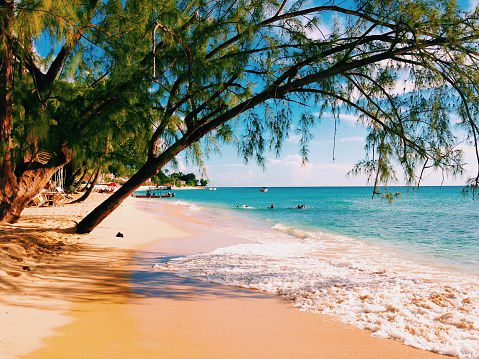 Here's the top ten hottest places to visit in January:
The hottest places in January tend to be long haul destinations such as Cancun (30 °C ) and Barbados (29 °C), but a little closer to home, destinations like Tenerife and Lanzarote still have warm temperatures and plenty of sunshin
One of Lanzarote's most popular resorts, situated on the southern tip of the island, is Playa Blanca; an ideal winter escape.
Even in its mildest month, Playa Blanca still has an average daily maximum of 20.8 . The climate is fairly humid with the sun shining for seven hours during the day accompanied by the cooling Atlantic breeze.
There is a slight increase in rainfall during January with averages reaching 22 mm. This is to be expected infrequently and passes quickly.
Average January temperature: 20.8 °C
The largest and most populated of the Canary Islands is Tenerife, known for its beaches and busy tourist resorts.
Tenerife has a difference in climate between the north and south of the island with the latter being the hotter, drier option.
January is one of the coldest months albeit remaining very warm as it reaches an average daily maximum of 21.1 °C and experiences up to six hours of daily sunshine. Small chances of rain derive from the 41 mm average rainfall.
Average January temperature: 21.1 °C
Found in the Atlantic Ocean off the coast of Africa is Cape Verde, an archipelago consisting of 10 different islands of volcanic origin; a perfect destination for some island hopping.
Cape Verde is divided into two groups of islands: Barlavento and Sotavento. The weather across the archipelago is unique as it has a sub-tropical mix of climates.
January is the coldest month here but it is still very warm as its average daily maximum is 25.2 °C with six hours of sunshine. There is minimal to no rainfall during the month as it averages at 3 mm.
Sea temperatures are also comfortably warm, meaning that you can enjoy swimming at some of the archipelago's finest beaches.
Average January temperature: 25.2 °C
The second largest city in South Africa is Cape Town, located on the south coast and an up and coming popular holiday destination.
Its climate is described as Mediterranean, with January being its mildest summer month but still remaining warm with maximums averaging at 27 °C with eleven hours of sunshine.
Minimal rainfall is expected with an average of 8 mm across the month.
Average January temperature: 27 °C
Home to the world-famous Opera House and Harbour Bridge is Sydney, located in the south-east corner of Australia.
Summer time in Sydney brings months of desirable weather with the hottest month in the calendar, January, enjoying eight hours of sunshine and temperatures averaging at 27.4 °C.
The high chances of rain cause a lot of humidity, with levels averaging at 70 % but the 13 mph wind is likely to be refreshing so the climate will be bearable.
Average January temperature: 27.4 °C
Best known for its carnivals, football, music and beaches, Rio de Janeiro is considered Brazil's cultural capital and it boasts a hot climate year round.
There is very little variation in weather and climate across the year, with January setting the consistency at the beginning of the year.
Temperatures average at 29 °C throughout the month with six hours of sunshine in a day. Rainfall is amongst its highest with an average of 114 mm, so expect some showers during your holiday.
Average January temperature: 29 °C
The exotic island of Barbados, discovered by the Spanish, is an independent territory located in the eastern Caribbean.
With average daily maximums of 29.1 °C, you can enjoy the white sandy beaches and luxury resorts with the sun shining for nine hours each day. The trade winds blowing at an average wind speed of 11.8 mph cool down the air so that the temperature is not unbearable.
Sea temperatures are also very warm, meaning you can indulge in all kinds of water sports including scuba diving and snorkelling.
January is one of the drier months in Barbados with only 82 mm average rainfall.
Average January temperature: 29.1 °C
Situated on the banks of the Negro River in northern Brazil is Manaus, a port city and the capital of the state of Amazonas.
The temperature in Manaus is constant throughout the year with January being one of its mildest months having average daily maximums of 30 °C. Humidity starts at a high point in the year at 86 % and with this, you can expect just four hours of daily sunshine.
The tropical monsoon climate means that you can expect a lot of rainfall. This, along with its location at the centre of exploration into the Amazon rainforest, is a clear indicator of the 260 mm of average rainfall totals across January.
Average January temperature: 30 °C
Cancun is located on the south-east coast of Mexico and is one of the most popular holiday destinations with its year-round tropical climate.
The sea is pleasantly warm which, along with the temperature at a daily maximum of 30.5 °C, make it the perfect time of the year to escape and relax on the beach.
Rainfall is minimal during the Mexican summer with January being one of the drier months, although with an average of 40 mm total rainfall you should expect some showers during your holiday.
Average January temperature: 30.5 °C
The high rise city-state landscape of Singapore lies between Malaysia and Indonesia just one degree north of the equator. It experiences a tropical/equatorial climate meaning consistent temperatures all year round, high levels of humidity, and plenty of rainfall.
January is Singapore's coolest month, although you will have to battle with the 30.5 °C heat in combination with humidity levels that average at 85 %.
There are two main monsoon seasons in Singapore, and January lies in the Northeast Monsoon Season which has both wet and dry phases. January lies in the former phase, with continuous heavy rainfall in the afternoons and early evenings averaging a total of 246 mm for the month.
Average January temperature: 30.5 °C
Where is hot in January:
On average, some of the hottest places to visit in January are:
Singapore (30.5 °C)
Cancun (30.5 °C)
Manaus (30 °C)
Barbados (29.1 °C)
Rio de Janeiro (29 °C)
Sydney (27.4 °C)
Cape Town (27 °C)
Cape Verde (25.2 °C)
Tenerife (21.1 °C)
Playa Blanca (20.5 °C)
Source: https://www.metoffice.gov.uk/weather/travel-and-events/holiday-weather/wheres-hot-when/january